Registration has closed. Walk-ins are welcome:
GSAE Member - $49
Guests - $59
Keynote Speaker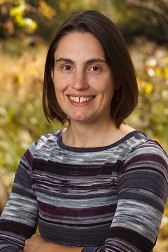 Nikki Belmonte is the Executive Director of Atlanta Audubon, a Georgia nonprofit organization dedicated to building places where birds and people thrive. Atlanta Audubon provides on-the-ground conservation and citizen science programs as well as offers educational programming through the lens of birds and their habitats. Nikki began as the education coordinator in 2010 and moved into the organization's first full-time executive director position in 2013. 
Prior to Atlanta Audubon, Nikki was a science lab teacher for Cobb County Schools and a naturalist at Sawnee Mountain Preserve in Forsyth County. Nikki is a Massachusetts native where she worked for the Department of Conservation and Recreation in various capacities within the Division of State Parks, the Division of Urban Parks, and the Office of the Commissioner. Her deep affection for nature and birding began as a child at Mass Audubon sanctuaries where she discovered her spark bird, the Black-capped Chickadee. Nikki holds a BS in wildlife conservation from University of Massachusetts Amherst and a MS in environmental education from Antioch University New England. She lives in Roswell with her husband and two children.
Flying Together for a Greener Georgia
How birds can unite us for a better future
Everyone has a story about birds. Talking about birds is common ground, and ultimately, birds can unite us because where birds thrive, people thrive. We'll discuss ways that Georgia's birds can unite us in our businesses and in our communities. Nikki will reveal some of the challenges that birds face in Georgia, and discuss the surprising ways we can all participate in conservation actions that benefit birds, wildlife, and people.
Schedule
10:30-11:30 am: Supplier Council meeting
10:30-11:30 am: Member Orientation
11:00-12:00 pm: Participation Fair & Networking Reception
12:00-1:30 pm: Luncheon and Keynote featuring Nikki Belmonte
Cost:
GSAE member: $39 early bird ($49, after Feb. 15)
Guest: $49 early bird, ($59 after Feb. 15)
 
Directions to City Springs (Google maps)
1 Galambos Way*
Sandy Springs, Georgia 30328
(770) 206-2022
Parking at City Springs
*This is a new street so if you haven't updated your GPS recently, it may not be listed. It is recognized by Google Maps and Waze
City Springs is located on the west side of Roswell Road between Johnson Ferry Road (north), Mount Vernon Highway (south).
From I-285 eastbound - Take Exit 25 (Roswell Road) and turn left.
From I-285 westbound - Take Exit 25 (Roswell Road) and turn right.
Travel on Roswell Road for just under one mile and City Springs will be on your left. To access the parking garage, turn left on Mount Vernon Highway and take the first right on Galambos Way. The parking garage entrance will be on your right.
GSAE is a CAE Approved Provider
This program meets the requirements for fulfilling the professional development requirements to earn or maintain the Certified Association Executive credential. Every program that we offer which qualifies for CAE credit will clearly identify the number of CAE credits granted for full participation, and we will maintain records of your participation in accord with CAE policies. For more information about the CAE credential or Approved Provider program, please visit www.whatiscae.org. This luncheon program may be applied for 1 credit toward your CAE application or renewal of professional development requirements.
Note: This program is not endorsed, accredited, or affiliated with ASAE or the CAE program. Applicants may use any program that meets eligibility requirements in the specific time frame towards the exam application or renewal. There are no specific individual courses required as part of the applications – selection of eligible education is up to the applicant based on his/her needs. 
Consent for Use of Photographic Images
Registration and attendance at, or participation in, GSAE meetings and other activities constitutes an agreement by the registrant to GSAE's use and distribution (now and in the future) of the registrant or attendee's image or voice in photographs, videotapes, electronic reproductions and audiotapes of such events and activities.
Cancellation Policy
Your cancellation request must have been made in writing and received by GSAE at least 4 working days prior to date (Friday, Feb. 15) of event via fax (404) 577-7870 or e-mail ([email protected]). Replacement registrants are welcome. Refunds will only be given in cases where the above guidelines are followed. If you do not attend the luncheon and do not cancel your registration or submit a replacement, you will be billed after the meeting.